Power Hour Boot Camp - Benoni
Friday, 20 September 2013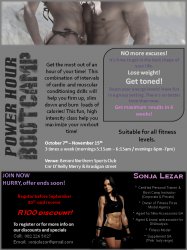 Contacts

Sonja Lezar

082 226 5027
Item description
Did you know that Fitness Boot Camps has become the most popular in the fitness industry nowadays and is one of the 'Top Rated' ways to Get Fit and Stay Fit!
By using randomized movements and cardiovascular training you can get the lean, toned body that you have always wanted.

The Power Hour Boot Camp Fitness Training Program allows you to make a commitment to a fitter lifestyle.

We believe in the theory that constantly varied high intensity workouts will achieve the best results for your overall fitness.
Our program is designed to jump start your fitness goals in a dynamic, outdoor setting. Campers who train with us will improve endurance, stamina, strength, speed, and overall health and fitness, while losing body fat, inches, and gaining confidence.

We offer the highest level of training in a positive, fun, motivating environment for the fraction of the cost of personal training. You aren't paying for a typical gym membership. You are paying for professional coaching and experienced workout programming.

If you have any questions with regards to the classes, costs, how to join, etc, please do not hesitate to contact/email me.