ANUA School of Music - Benoni
Tuesday, 3 April 2012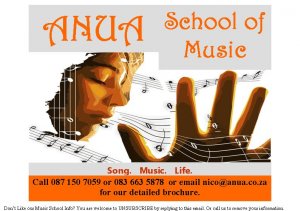 Contacts

Nico Goosen

0836635878
Item description
Learning to Sing or Play a musical instrument can be very rewarding for any

person who loves music. At ANUA School of Music we motivate our

students, build confidence, develop their skills and bring

out beautiful voices and musical ability.


At ANUA School of Music we offer excellent tuition in:

Singing, Guitar, Piano, Flute, Saxophone, Violin, Cello, Clarinet

Workshops in Stage Anxiety, Stage work, Singing with a Live Band,

Microphone techniques, movement and many more.

Vocal Assessments available

More information contact us TODAY!!