Our company specializes in carports and shade ports - Benoni
Friday, 12 October 2018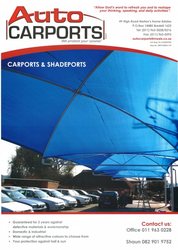 Contacts

Shirleen

(011)9630228
Item description
Our company specializes in carports and shade ports, we do new structures, repairs and maintenance.

Small repairs can be done like:
Re stitching of the nets.
Sanding & Painting where rusted.
General Maintenance(check the bolts, nuts, welding, hextex, washers , etc.)
If net is torn we can replace / repair.

We have been in the industry for 24 years. Feel free to visit our website www.autocarports.co.za.

Shade ports and carports are not as expensive as one would think – please feel free to contact us for a free – no obligation – quotation.


We also offer the following services:

• Painting
• Paving
• Building maintenance
• Palisade
• Electric fencing
• Intercom systems
• Indoor fire protection Sprinklers with pumps and piping
• TLB machines and peckers to break up concrete.
• Trucks
• Partitioning
• Building work
• Plaster work
• Ceilings
• Roofs
• Servicing of all fire extinguishers and plants
• Flooring
• Carpeting
• Wooden Trusses
• Hiring of compressors
• Cleaning of gutters and downpipes and drains (flood water)
• Delivering of all building materials

Therefore all retention and alteration work. Please give us the opportunity to give you a quotation, anything else not listed please contact us.