ANUA School of Music - Benoni
Monday, 1 October 2012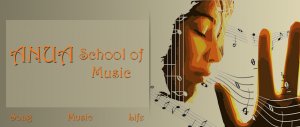 Contacts

Nico Goosen (Principal)

0836635878
Item description
SONG - MUSIC - LIFE

At ANUA School of Music we offer excellent tuition in the following:

Singing – Piano – Guitar – Violin – Flute – Saxophone – Clarinet

Taking singing classes not only improves your vocal ability, it also increases your self-esteem. Training your voice gives you confidence. All voices are unique, as are all personalities. There is no such thing as a perfect voice, therefore don't be concerned with the condition of your voice or a fear of failure, because the art of training is all about addressing those issues.

Successful learning requires a successful teacher.

A teacher should understand more than just vocal technique for it includes a whole array of other skills, like musical coaching and phrasing, acting and lyric interpretation. Besides the excellent tuition that we offer, regular workshops and events will add an additional path to successful learning.

Anyone can learn to read music and play an instrument. It's about learning a new skill and practicing it until it is perfected. To be able to sit down and play something by ear or write your own composition, is a truly a magnificent skill to have. Our courses and classes include extensive training of the ear, and all ears are trainable! There is no such thing as being tone deaf. We are all at different levels of musicianship and with correct and patient training anyone can master any musical instrument they set their heart to.

Sense of Achievement

If you're a beginner learning to play your first piece, it can be frustrating. But once you've mastered it, the satisfaction you'll feel is priceless. Never mind if it's just a simple piece, believe us when we say that you'll never forget the first piece you've mastered. You are one more step closer to achieving your goal and that is certainly something to be proud of.

LIFE is about living it and enjoyment. Music and Song teach one about Life and its varied harmonies and frequencies. To learn how to sing, or how to play a particular musical instrument shows commitment to Life. A skill learned and well-practiced, takes on a different tone in our lives when we live that skill. It becomes an art-form.

Life can be a passionate affair

Mix it with the healing gift of music and suddenly life is enriched and empowered. At ANUA we love music and are passionate about what we do. Do know that whether or not you as an individual wish to learn to sing or learn to play any musical instrument and take it to examination level or use our classes only for personal development, ANUA School of Music will add a higher dimension to your life by bringing in a holistic and gentle yet dynamic and interactive process to our tuition.